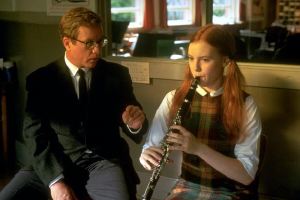 Below are the powerful remarks of Academy-Award nominee, National Coalition for Music Education advisor, and Mr. Holland's Opus star Richard Dreyfuss delivered before a worldwide audience during the 38th Annual Grammy Awards.
Please use the awareness his comments have generated to call attention to the value and importance of music and arts education in your schools. We urge you to write editorials, letters to the editor, copy and distribute these remarks to aid in local advocacy efforts and activities. Do not let this opportunity pass us by!



---


Remarks by Richard Dreyfuss:
This evening is a celebration of music, the artists who create it, and the phenomenon of creativity itself. Now, there are two realities in this movie (Mr. Holland's Opus). One is the life of a teacher, a reality of defeats and victories, like all of our lives, --but one that ends as a celebration. The other reality is the loss of music in the schools in the same America and that is hardly a celebration.

For some strange reason, when it comes to music and the arts, our world view has led us to believe they are easily expendable. Well, I believe that a nation that allows music to be expendable is in danger of becoming expendable itself.

Perhaps we've all misunderstood the reason we learn music, and all the arts, in the first place. It is not only so a student can learn the clarinet, or another student can take an acting lesson. It is that for hundreds of years it has been known that teaching the arts, along with history and math and biology, helps to create The Well Rounded Mind that western civilization, and America, have been grounded on. America's greatest achievements -- in science, in business, in popular culture, would simply not be attainable without an education that encourages achievement in all fields. It is from that creativity and imagination that the solutions to our political and social problems will come. We need that Well Rounded Mind, now. Without it, we simply make more difficult the problems we face.

There's a general feeling growing in this country lately that we simply spend too much money ... that we can't afford to give our children the education we grew up with. This is an insane anxiety that allows us to forget that we are, after all, the richest country on Earth, and that the real question is not what we can't pay for, but rather how can we efficiently pay for the kind of public education we all want and need.

Cutting these programs, then, is like tying our children's hands behind their backs, and I don't think anyone really wants to do that ... we hope for too much for our kids, and for our country. We are parents, most of us, and we are citizens, all of us. Don't let this happen, I urge you."