This article was reprinted from the December 1998 issue of the SBO (School Band and Orchestra)
Below I've listed the highlights that relate more to this page. For more info on VH1's "Save the Music" at their site, click HERE.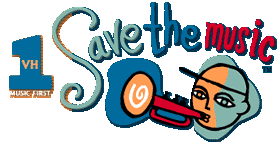 UpClose: John Sykes
Man On A Mission
SBO: How did the Save the Music program evolve?
John Sykes: There is a program in New York city where corporate executives are invited into the public schools to act as a "principal for a day", and I was chosen to visit P.S. 58. During the day, part of the itinerary was to attend a 5th grade concert. I expected the worst and was treated to a very moving performance of students playing Beethoven. At the same time I noticed that most the students had instruments that were being held together with gaffers tape. I further learned that the music students were among the best academically within the school, and that there was no funds available to either repair the intruments or purchase new equipment.
SBO: What followed?
Sykes: I started to do some research on the subject of music education in education and learned of the direct correlation between better test scores and musical exposure. Music builds brain power, and was receiving little support in the New York school systems. I discussed my experience at P.S. 58 with my staff at VH1 and we decided to adopt the school and provide proper musical instruments. This idea mushroomed to encompassing the entire system. We approached Rudy Crews, the school system chancellor, who was already a supporter of the arts, and music in particular. He had followed the research linking music and the brain, and encouraged our efforts. Save the Music was born and our first goal was to collect $1 million in instruments, which we did in partnership with our local cable affiliate, Time Warner.
SBO: How did the program grow?
Sykes: Once we achieved our initial goal, it was a natural progression to move ahead nationally. We met with our cable affiliates to relate the New York experience and forged a partnership to rebuild the music programs at the local level. VH1 reaches 64 million homes, and we knew that we could make a difference with the proper support and encouragement of the local cable channels, music educators and the music industry.
SBO: What was the next phase?
Sykes: Once we had formulated the plan and made a corporate commitment, we unleashed our marketing machine, which included briefing all our network affiliates and asking our friends in the press to get the word out to government officials and decision makers. Our message was simply that muisc is not a frill but an important ingredient in the educational process. Almost immediately we received bipartisan support. General Colin Powell supported the concept in his launch of America's Promise campaign to aid the yourth of our country. President Clinton offered to donate one of his own saxophones.
SBO: Entertainers also supported the project?
Sykes: Paul McCartney performed at Carnegie Hall and raised $75,000 for Save the Music. Perhaps the premiere event to date was the VH1 Divas Live concert with Gloria Estefan, Mariah Carey, Aretha Franklin, Carole King, Celine Dion and Shania Twain. Another example of artist involvement was John Mellencamp's donation of $60,000 worth of instruments to schools in the Chicago area.
SBO: Will you continue to promote concerts and other events as fund raisers?
Sykes: This in an integral part of our plan. We hope to stage two or three benefit concerts each year, in addition to other events such as our Fairway To Heaven golf tournament held in Los Vegas and tie-ins with major entertainers.
SBO: Why is Save the Music targeted towards the younger grade students?
Sykes: This is the time in a child's life when music education can have the greatest impact. It develops basic math and reading ability, spatial reasoning skills, self esteem, self discipline and creativity among other factors. We also know that children exposed to music generally have fewer alcohol and drug problems, better school attendance and higher SAT scores. We want to encourage this exposure as early as possible.
SBO: How do you interface with other industry groups?
Sykes:Our national partners include MENC (Music Educators National Conference) representing the educator; NAMM (National Association of Music Merchants) representing the music dealer and supplier and NABIM (National Association of Band Instrumet Manufacturers). These, and other groups, have been enthusiastic supporters.
SBO: What is the long range goal of Save the Music?
Sykes: VH1 Save the Music is generating over $100 million of total support to bring music instruction to one million children during the next decade. At the same time we are going to use our media reach and power to educate parents and voters that music education is not a frill but a basic component in the education process. At the end of the day we hope that our efforts will be so successful that there will be no further need for Save the Music Campaign.
---

RELATED LINKS:

VH1 Save the Music - Official Site
VH1 Save the Music Campaign Article - Article posted at privatelessons.com.